On a high – aerial photography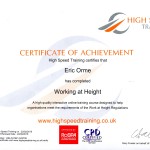 Architectural and location photography regularly makes it necessary to get the camera up high.  Sometimes, roof detail is important, sometimes it is a challenge presented by the need to keep a camera level to avoid perspective distortion. It is common that a building on a hill presents its best aspect facing down hill. That makes it really hard to capture unless you can get the camera up high.
I use different methods to elevate the camera. The first choice is just to find an adjacent building that allows me to get up the right level. I have used masts before or even just a tall step ladder and a camera jib. I now have a choice of two drone pilots, both qualified with the Civil Aviation Authority and fully insured, who can get my camera up above a build and hold it dead steady while I operate it via a mobile wi-fi connection.
Of course all of this high-up work entails some health and safety risk so I am proud to say that I am now trained for working at height.