Norman Foster's Willis Building, Ipswich
I have long wanted to sneak a view inside Norman Foster's iconic Willis Faber building in Ipswich. At the time it was listed in 1991 it was the youngest building ever to receive a Grade 1 listing and was one of only two under 30 years old. The building is distinguished by its smoked glass curtain cladding which is suspended from, not attached to,  the structure.
It comprises three floors of open plan office space linked by a an impressive array of escalators which cut through the center of the building to towards the wonderful roof garden.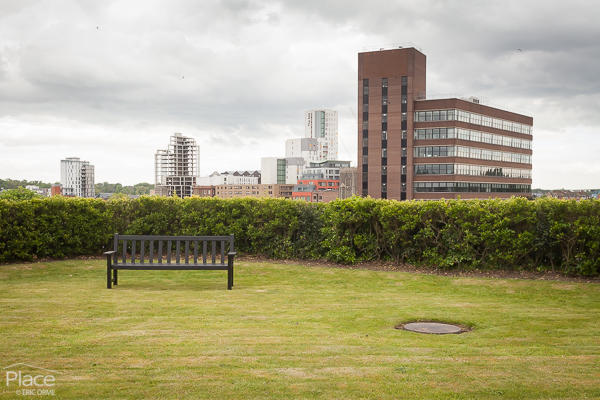 Also of note is the staff swimming pool on the ground floor. I remember seeing it in use for many years but now the pool is covered and the IT department occupies the space.From the roof garden we had a great view of a recent streetscape design by The Landscape Partnership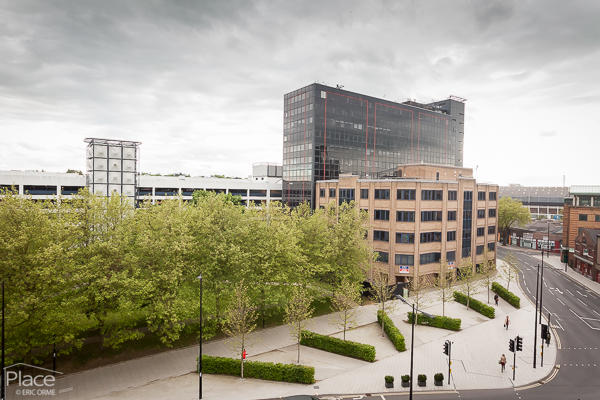 Big thanks to the local Chapter of the Landscape Institute for hosting the event.Sitting through the AGM that followed was a small price to pay and it was a pleasure to meet Landscape Architects from Wynne-Williams Associated Ltd whose work I had been photographing only that day at Poplars Community Primary School in Lowestoft. You can see some of that here.
---
Place provides photographic services in the fields of architecture, landscape design, construction, environment and property management, interior design, property sales, estate management, building surveying and urban planning, etc. We cover Suffolk, Norfolk, Cambridgeshire, Essex and London including Ipswich, Cambridge, Norwich, Colchester, Chelmsford,  Bury St Edmunds, Southend-0n-Sea. FOLLOW US to receive a very occasional newsletter. You can unfollow at anytime.
---